Each apartment of the Messner family in the Funes Valley is a small oasis of tranquillity
Imagine – after a restful sleep – listening to birds chirping and the gentle rustling of leaves – in short, being awakened by Mother Nature …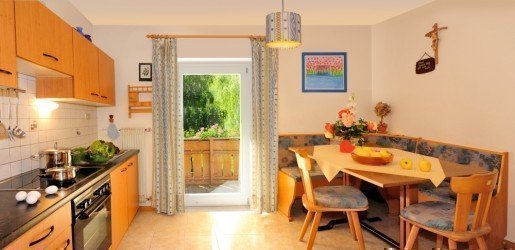 Open (before breakfast) a window, door or step on the balcony or the terrace and be welcomed into the new day by fragrant and fresh air and pure vital energy. The freshness and beauty of the woods and fields with their fragrant flowers speak for themselves – pure nature!
The 3 holiday appartements on the farm
Our three spacious apartments on the farm Tschampertonhof are especially designed for the needs of our guests. They offer 2-4 or 4-6 persons plenty of space. Two of the apartments are situated on the first floor and have plenty of living space for families, friends and couples. The ground floor apartment at the farm Tschampertonhof is adapted for disabled persons, in order to allow everyone to enjoy their holiday with us. All apartments have a cosy, modern kitchen, which is fully equipped. Solid wood furniture and small lovely decoration details create a warm living environment. In the separate bedrooms a healthy sleep is guaranteed.
Upon request, also your pets can enjoy a holiday in the holiday apartment in Funes. Further great services we offer is the "fresh bread delivery" and the sale of our own products. Fresh eggs, milk and fine seasonal vegetables – simply delicious!
Here you find our price list.